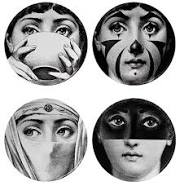 Piero Fornasetti
was an Italian painter, sculptor, interior decorator and engraver. He lived most of life in Milan, attending the Brera Art Academy from 1930-32 when he was expelled for insubordination.
He created more than 11,000 items, many featuring the face of a woman, operatic soprano
Lina Cavalieri
, as a motif. Fornasetti found her face in a 19th century magazine. "What inspired me to create more than 500 variations on the face of a woman?" asks Italian designer, Piero Fornasetti of himself. "I don't know," he admits, "I began to make them and I never stopped."
Piero Fornasetti
, 10 November 1913 - 9 October 1988.


Wikipedia
Elle Décor - Inspired Reading
Elle Décor - Fornasetti Home